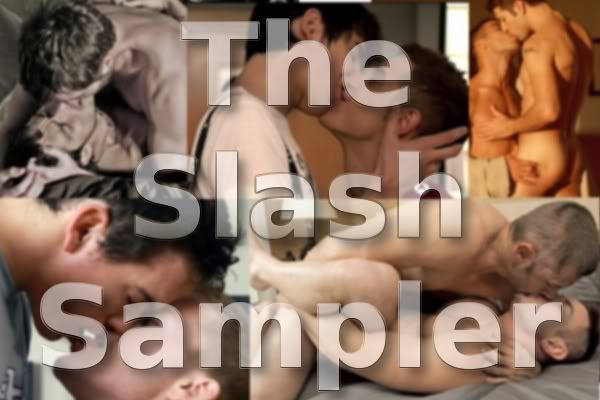 Anyone that knows me knows that I'm a fandom slut and I've been reading fan fiction for a long time. Slash is a large portion of the fan fiction that I read and I read it in a lot of fandoms. So, since I'm a big ol' slut, I decided to give you sampler of some of my fave fics from several fandoms. Now, you Twilight fans do not dispair. I have two Twi fan fics in here, an AU and AH, because I can't even control my slutty ways in one fandom. As for the others, I have a diverse group of naughty delights for you from several fandoms including DC Comics, Harry Potter, Star Trek, X-men movies and even a little TV show called The OC. Oh yeah, nothing is safe when it comes to my slashy cravings. Without further ado, BRING ON THE SLASH FIC!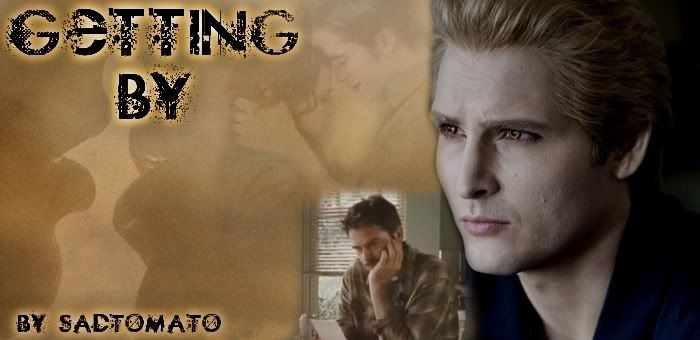 Getting By
by
Sadtomato
One of my all time favorite Twilight slash pairings is Charlie/Carlisle. It was inspired by the on screen chemstry between the actors in the first movie. So, I never turn down a chance to read any fic about my boys, even if it's going to kill my soul. Holy Mary Mother of GOD that is exactly what
Getting By
does to you, but even as it's breaking your heart it is turns you on. Be warned it is not for the faint of heart.
Sadtomato
went balls-out when she explores the nature of grief and parenthood in this AU Post Breaking Dawn universe.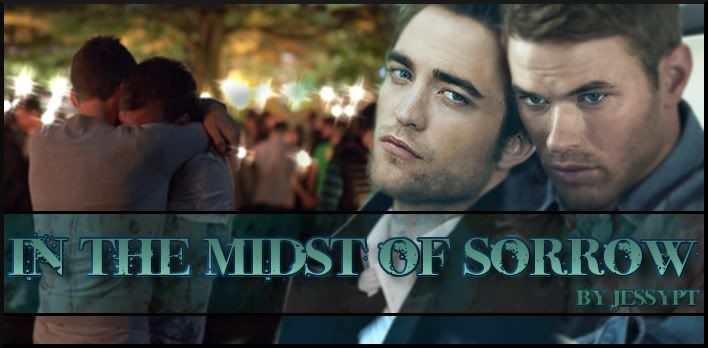 In the Midst of Sorrow
by
jessypt
It is hard to believe that this is
jessypt
's first foray into slash fic, because when you read
In the Midst of Sorrow
you will swear that she was born to write it. Edward and Emmett's grief is stifling and yet their love for one another leaves you feeling like you are walking on air. This fic creates a whole new genre that I call AngstFluff. No shit, even as my heart was being ripped out of my chest
jessypt
put wings on it and sent it soaring to heaven. You know a fic is good when it makes me talk like a moronic poet.
When Subtext Becomes Text or When Seth Cohen Fulfills His Destiny as a Superhero
by
lalejandra
Yeah I watched the OC! Don't lie and tell me you didn't. The main reason I did (other than to star at the hottnes that is Cam Gigandet) was to watch the undeniable slash subtext between Seth Cohen and Ryan Atwood. OMFG these two are what great slash fic is all about. Socially enept Geekboy and the broody bad boy with a dark past become best friends (in my pants). Yes please.
When Subtext Becomes Text or When Seth Cohen Fulfills His Destiny as a Superhero
is a hilarious mindfuck of a moment in time where Seth and Ryan FINALLY FUCK! Really do you need anymore set up? Didn't think so.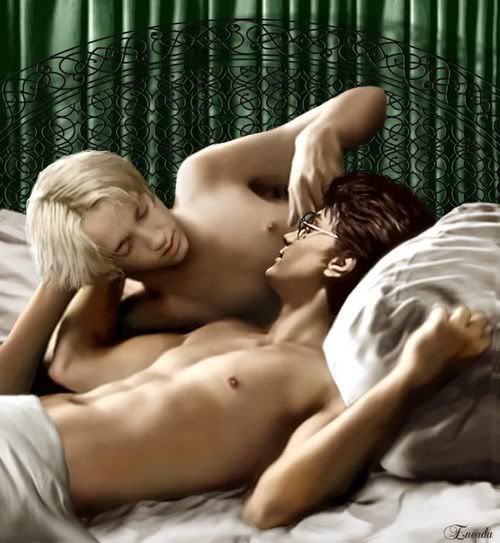 You Align My Stars
by
bsmog
I love Harry/Draco a lot and what I love the most about them is their animosity. So, while HP fandom has an asston of fluffy smut, I like it in our favorite wizarding slash pairing has to work for love.
You Align My Stars
more than scratches that itch for me. In this AU (EWE) Post Deathly Hallows fic we find a agoraphobic Harry that has lost touch with pretty much everything. In his time of isolation and regret the most unlikely of person in the world to pull him out of his house and back into the work. I love how Draco is still
Draco
, but yet a more mature and repentant man. Harry is still the dense git he is in the books, but sadder and even more lost, now that his life lacks a mission. Their journey is fascinating, believable and a bit swoonworthy. Often times I found myself sighing and giggling. This is hands down one my favorite HP fan fics EVER!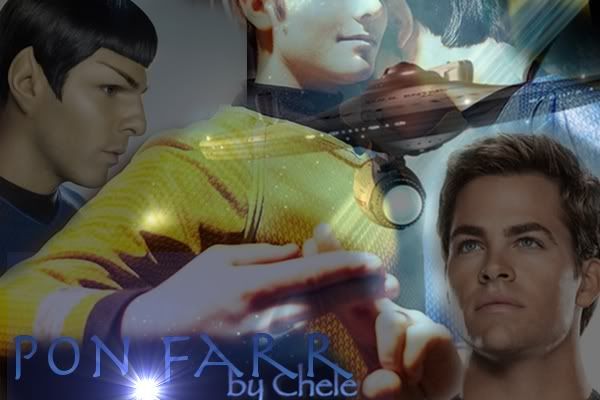 Pon Farr Release
by
chele681
I have a confession to make. *takes a deep breath* While I've been in the Star Trek fandom pretty much since birth, I have never been into Kirk/Spock. I know, I know, but to be honest it was kind of the fan fic equivalent of watching my parents fuck. *shudder* So, I've been left out of the epic original slash pairing fun until the new movie. Thank you JJ Abrams! Now, I have a sexy, younger and non-paternal identified version of Spork that really works for me. Enter
Pon Farr Release
and watch my pants explode. The emotion and intensity of this story makes me lightheaded. If you've never read Star Trek slash this is the fic to start with.
Undercover
by
shrift
Holy hot boysex, Batman! I read a ton of comic book slash fic, most of which revolves around the DC verse. While I'm a huge fangirl of the cape and the cowl there are certain scenerios that don't work for me when it comes to those icon figures like Superman and Batman. Enter Superboy (Kon-El) and Robin (Tim Drake). These younger, edgier boys feel more modern and (in my opinion) fit better into off-beat situations like say playing a male prostitute and his trick. You read that right. Now more set up needed, go read.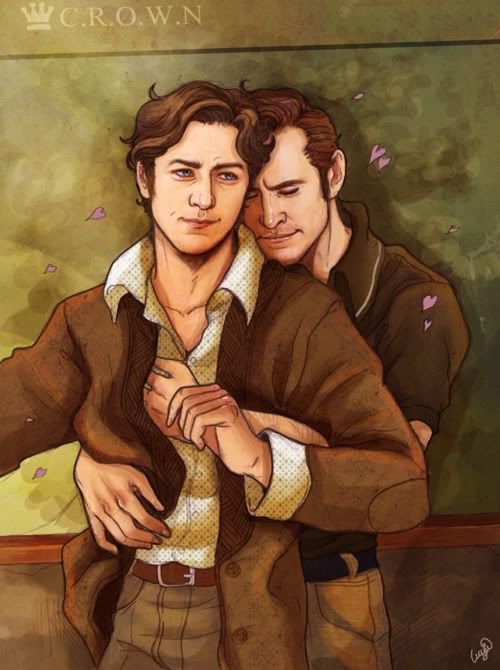 Impossible
by
cerebel
If you've seen X-Men: First Class than this pairing is a no-brainer. Charles Xavier (Professor X) and Eric Lehnsherr (Magneto) have been the top slash pairing in the Marvel fandom for decades, but this movie gave them new life and tons more canon to build on.
Impossible
is a wonderful sample of what that new canon has done for slash fic writers in the Marvel fandom. We are talking angst, sensuality and deep aching regret. Me like a lot. UNF!